accessibility
Everyone deserves the opportunity to spend time outdoors, and land trusts have a responsibility to ensure public lands are as inclusive as possible. The resources and information listed below are just a start – CLC recognizes the need to incorporate additional accessible infrastructure on public lands.
If you have any questions about accessibility at CLC properties, or would like to suggest additional resources to add to this page, please be in touch.
Restrooms: Restrooms are not available at any sites in 2023. Portable toilets will be available at Ooms and Overmountain from May – August 2024. Stay tuned for more information!
Service dogs: Dogs are allowed at all CLC properties. Please keep all dogs on a leash, and remove any waste.
Signage and wayfinding: Signage at all properties adheres to the accessibility guidelines for signage in the National Parks. Signs are printed in English and Spanish.
Social stories: Use this blank template to create a social story before you head outside! CLC anticipates having pre-populated social stories available in the summer of 2024.
Trail maps and guides: Trail maps adhere to large-print standards, and include information about each trail's slope and surface. CLC is currently in the process of collecting additional information and anticipates having new maps available in the spring of 2024.
Site suggestions
Are you looking for somewhere that…
Trail maps
Right-click to download each image.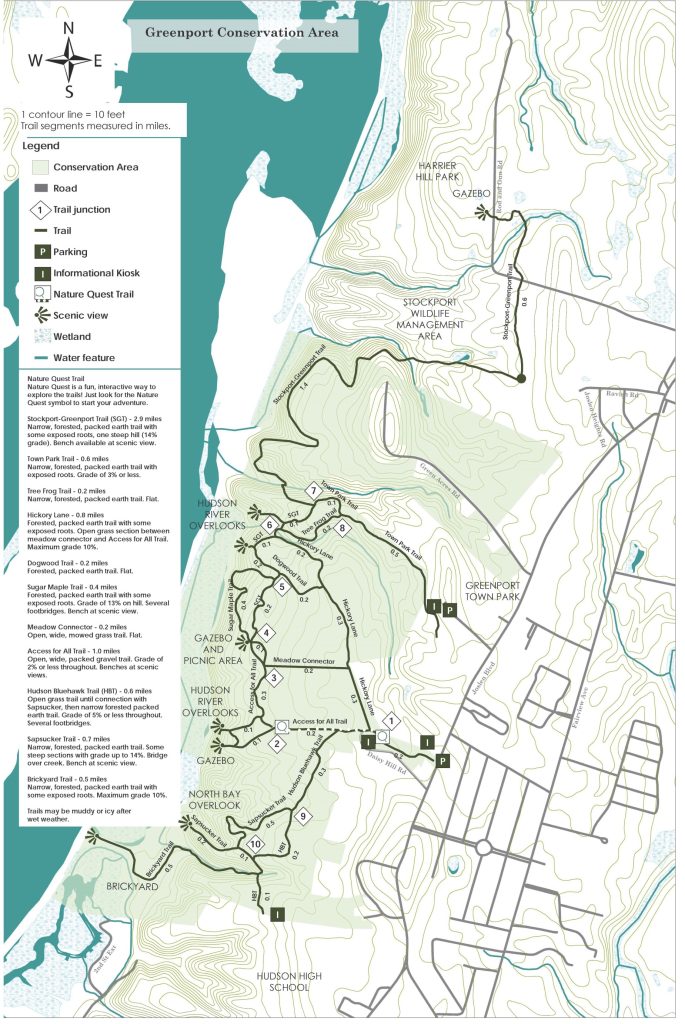 More resources
If you're not seeing a CLC property that meets your needs, you may be able to find one by searching some of these sites or connecting with these groups.
Birdability "Through education, outreach and advocacy, Birdability works to ensure the birding community and the outdoors are welcoming, inclusive, safe and accessible for everybody. We focus on people with mobility challenges, blindness or low vision, chronic illness, intellectual or developmental disabilities, mental illness, and those who are neurodivergent, deaf or hard of hearing or who have other health concerns. In addition to current birders, we strive to introduce birding to people with disabilities and other health concerns who are not yet birders so they too can experience the joys of birding."
Body Liberation Club – Capital Region "This is a space free of diet and weight loss culture for folks of all genders who struggle—or have struggled—with giving themselves permission to enjoy nature and outdoor movement. Body Liberation Outdoor Club (BLOC) is blazing past the gatekeepers of the outdoor industry who, for so long, have shunned body diversity and visibility during recreation. We choose to view such activities as pure enjoyment, free of competition or comparison. The BLOC community reveres those who live in marginalized bodies and empowers them to affirm the value they possess as their unique selves."
Disabled Hikers "Disabled Hikers is an entirely Disabled-led organization. We celebrate disabled people's experiences in the outdoors. We help facilitate those experiences with information, resources, and events, including trail guides and group hikes. We are also committed advocates for justice, access, and inclusion, and work with parks, organizations, brands, and more. with disabled hikers and our allies, we are committed to making the outdoors accessible to all. We aim to accomplish this through community, resources, and action."
New York Outdoor Recreation Coalition "The Open Spaces for All report is a blueprint for creating welcoming, accessible outdoor experiences in New York State's parks and open spaces and contains community and state level recommendations to improve equity and access for visitors to New York's parks and open spaces."
Venture Out Project "The Venture Out Project leads backpacking and wilderness trips for the queer and transgender community.
We also conduct transgender inclusion workshops for educators, adventure professionals, summer camps and more!"