Wondering where to get outside this fall? Check out these suggestions!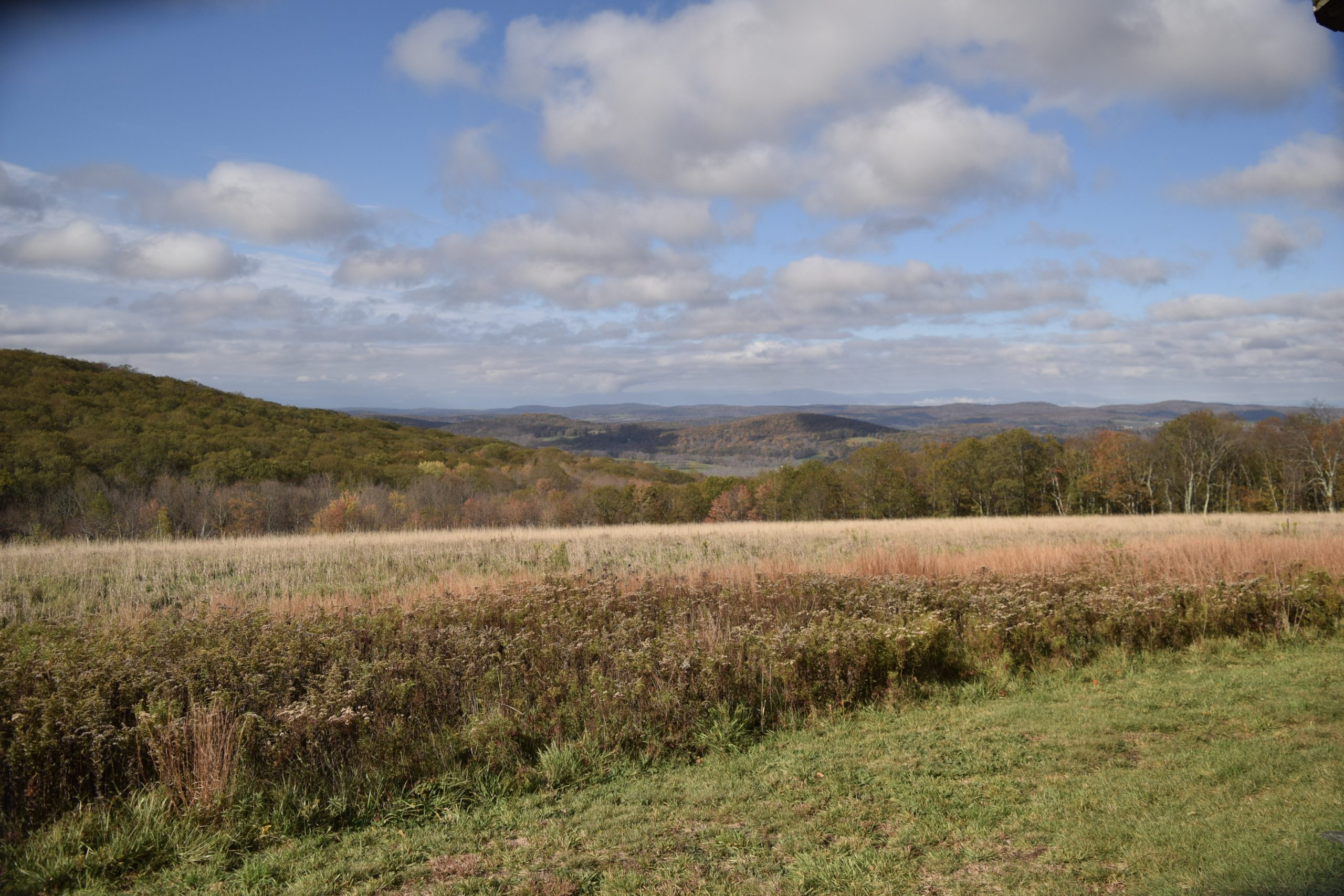 Overmountain: Kestrel and Bobolink/Kite Hill-Fox Hill Trails to the gazebo
What's better than big sweeping views of the Catskills? Turning around and seeing more sweeping views of the Berkshires!
Park at 503 Catalano Road, Ancram
Take the Kestrel Trail to the gazebo. The Kestrel Trail is a 0.3-mile old farm road with some trees. It is suitable for strollers and multiple people can walk side by side.
Return the way you came, or take the Bobolink Trail to the Kite Hill/Fox Hill trailhead to add an additional 1.5 miles. These trails wind through an old field and a forest, and include some exposed tree roots and branches.
Total mileage for the Kestrel Trail: 0.6
Total mileage for Kestrel/Bobolink/Kite Hill Loop: 2.1
Hand Hollow: The Beaver Byway
Looking for a longer stroll? Take the Beaver Byway through Hand Hollow. Maybe you'll catch a glimpse of a beaver! Maybe you'll see some beautiful foliage! Maybe you'll hear some migrating birds!
Park at 4079 County Road 9, East Chatham – you could also have a friend park at 451 Gale Hill Road in East Chatham and do a one-way hike.
Take the Beaver Byway from one end of the property to the other. This trail includes some gravel, exposed roots, and bog bridges. It can be very muddy after a rain.
Total mileage for a one-way hike: 1.6
Total mileage for a round-trip hike: 3.2
High Falls: Waterfall views
DO go chasing waterfalls at High Falls! A relatively short walk (less than a mile) leads you to fabulous overlooks of the county's highest waterfall.
Park at 540 Roxbury Road, Hudson (the site is outside the village of Philmont but the address is Hudson)
Take Waterfall Way 0.6 miles to the overlook. The trail has some ruts, exposed tree roots, and bog bridges. It is not suitable for strollers or individuals with mobility disabilities.
Return the way you came, or take the staircase to the Agawamuck Trail to take a closer look at the Creek of Many Fish.
Total mileage for the Waterfall Way out-and-back: 1.2
Total mileage for Waterfall Way and the Agawamuck Trail: 1.5